Binance Workshop & Networking corner
Connect with crypto enthusiasts like you, expand your knowledge, and have fun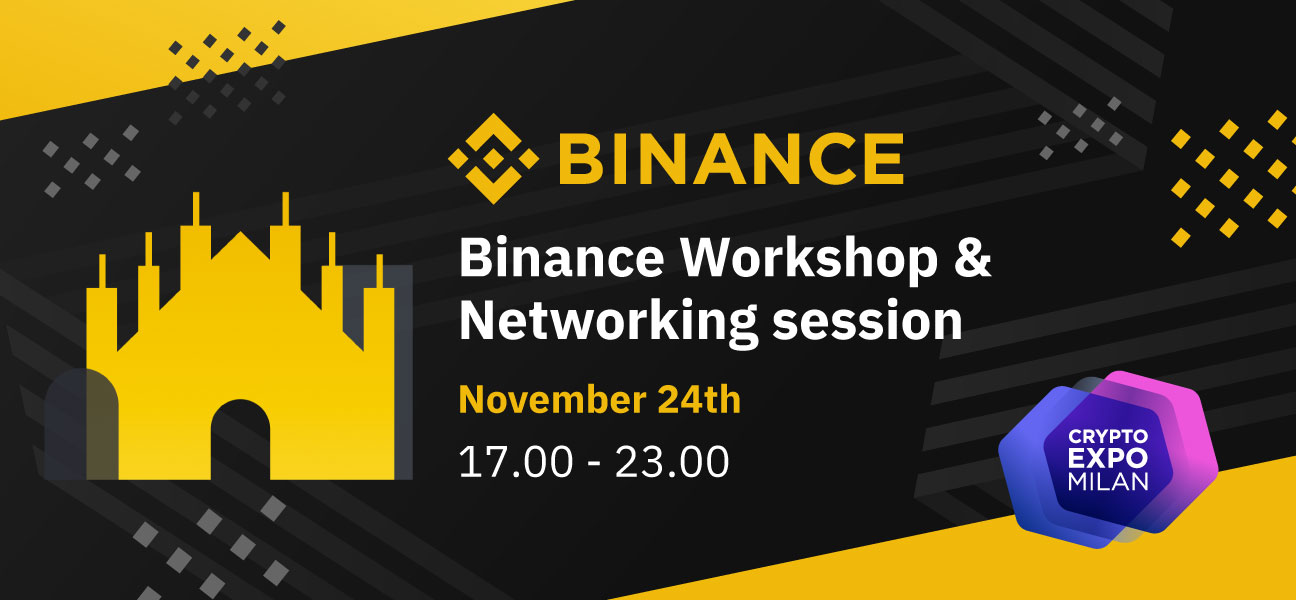 Are you passionate about blockchain and cryptocurrencies? Do you want to be part of one of the biggest community in the crypto space, discuss the latest trends with industry professionals and network with old and new friends? We've got you covered! Binance Workshop and Networking Corner is the perfect opportunity to learn, connect, and have fun! And you can join for free!
What's in store for you
Educational Talk
Dive deep into the Binance ecosystem, find out more about the VIP Program & Binance Pay. This is gonna be game-changing!
Speakers: Michela Silvestri and Filippo Anania
Interactive Quiz & Games
Challenge your knowledge and test your crypto expertise with engaging quizzes and games. Win exciting prizes and take your crypto journey to the next level.
Merchandise Giveaway
Grab some cool Binance merchandise and take home a piece of this experience at the Crypto Expo Milan. Networking Opportunities: Connect with fellow crypto enthusiasts, traders, and experts. Share insights, discuss the latest trends, and build valuable connections within the crypto community.
Aperitivo
To make this event even more special, enjoy a delightful aperitivo with your fellows.
*Please note that this is first-come, first-served, so arrive early to ensure you don't miss out!
Don't miss out on this opportunity to learn, network, and win prizes. Register for the Binance Workshop and Networking Corner for FREE by filling out the form below.
Save the Date - November 24th at 5 PM:
Mark your calendar for November 24th at 5 PM, and make your way to Crypto Expo Milan. The Binance Workshop and Networking Corner is the event you won't want to miss.
Access guaranteed only to 1200 people
Capacity is limited and will be a
first come, first served basis
(
CEM ticket holders will always have guaranteed access
)
Buy any CEM ticket
And secure your entry and priority access to the Binance Workshop.
Remember to use the discount code
BINANCE25
Receive special offers and updates
Sign up for our newsletter to receive updates on the event and special offers reserved for you.
By clicking the button, you agree to receive Crypto EXPO Milan emails ONLY see our [Conditions] (/ terms)